Welcome Message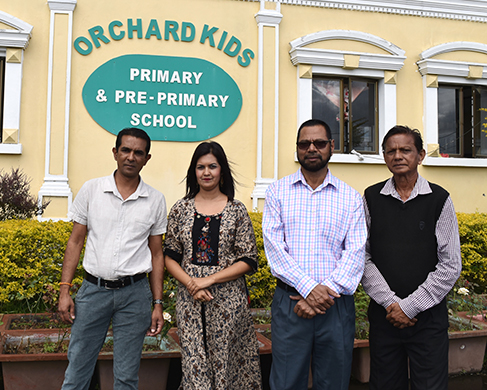 We would like to extend our heartfelt and warmest welcome to all parents, children, and well-wishers who are central to the life of Orchard Kids School.
Our two existing schools provide a child-friendly environment with affectionate and caring personnel in a conducive atmosphere to teaching and learning process for children aged 3 to 11. This Centre of excellence was opened in January 1994. Since then the fragrance has never stopped spreading towards families and children in the catchment area. Increasing number of parents have joined Orchard Kids to enjoy the nectar of a future successful life.
Entrusted with such a deep confidence along with our long-term vision Orchard Kids develops more buds.
The glowing success of the mother-branch encouraged us to embark on a five-star school at the heart of Les Plaines de L'Hermitage. The modern building stands proudly in the middle of an attractive, cool and quiet area facing a ring of gorgeous mountains.
Our kids are lucky to study in the company of natural birds, flowers and greenery.
Our both schools have a positive and welcoming climate. All our pupils have an academically outstanding record and are fully equipped to play their roles as good citizens and of course as dynamic leaders of tomorrow.
At Orchard Kids Schools, learning is brought alive through memorable experiences by infusing the children's senses, imagination, natural curiosity and love for reading. We have been concentrating on making the learning links explicit and encourage our pupils to become independent learners, creative thinkers, good communicators and problem solvers.
We consider our parents as our privileged partners to ascertain the success of of a life-long education.
Discipline stays the main component of our institutions. We consider discipline to be the core of education process itself. It enhances the overall development of the child from extra-curricular to academic activities, which help the child moulding his/her fine character to a radiating personality.
We create opportunities within our school environment for pupils to become aware of the need to reduce, reuse and recycle to care for our planet Earth.
In line with our vision in Education, we are setting up a secondary school "Orchard Academic Secondary School" located at Morcellement Aurea-living Harmony (SIT) Hermitage, Highlands so that our students after completing their primary schooling can move smoothly to this institution equipped with modern and up-to-date requirements in every field of study.
At Orchard Kids, we ensure that all children have the space and encouragement to learn, grow, play, explore and blossom into happy children ready to meet every challenge of the future with a blend of self-confidence and determination.
It is with great pride that we are holding with great care the hands that will definitely guide the destiny of the new generation.